Rp 20.599,000

Spesifikasi Produk Hiti P510K Mini Photo Kiosk
Model Name
Printing Method
Resolution
Printing Size & Capacity*
4" x 6" (102 x 152 mm) : 330 prints

5" x 7" (127 x 177 mm) : 190 prints

6" x 8" (152 x 203 mm) : 150 prints

6" x 9" (152 x 229 mm) : 150 prints

4" x 6" -2UP

5" x 7" -2UP

6" x 9" -2UP
Printing Speed**
4" x 6" prints: approx. 12 seconds

5" x 7" prints: approx. 18 seconds

6" x 8" prints: approx. 19 seconds

6" x 9" prints: approx. 21 seconds
Display
10.2-inch TFT LCD touch screen (16:9)
Input Media***
CF / Micro Drive / SD (SDHC) / Mini SD / Micro SD /

MS / MS Pro / USB Pen Drive / DVD or CD Reader
Wireless
Operation System
Flash Memory
4GB CF Card (memory upgrade)
Standalone Operation
Supported OS
Windows 2000, XP, Vista, Windows 7 (32/64-bit), Windows 8 ( 32/64-bit)

Mac OS 10.6, 10.7, 10.8
Power Requirement
AC 100 V~240 V, 50 / 60 Hz
Power Consumption
Total power consumption: approx. 350W

Standby power consumption: less than 40W
15° C~ 32° C / 59° F~ 90° F
Operation Humidity
Certifications
* 2UP function should be operated from printer driver by PC or notebook.
** Under the conditions of HiTi laboratory testing.
*** External USB DVD/CD reader is compatible with P510K, but it's not the standard equipment of package contents.

Berat dan ukuran Hiti P510K Mini Photo Kiosk
Approx. 18 kg / 40 lbs (consumables excluded)

Isi Paket Produk Hiti P510K Mini Photo Kiosk
1xHiti P510K Mini Photo Kiosk

1xbundle Software

1xkartu garansi


Ringkasan produk Hiti P510K Mini Photo Kiosk
Hiti P510K berhasil memperoleh penghargaan dari TIPA Award 2010 sebagau Best Photo Kiosk. Kinerja mesin yang sangat bersahabat dengan poenggunaannya (user friendly), dengan sistem manajemen yang sangat powerful, kesemuanya ada dalam satu produk .

Dengan menggunakan kabel USB, Hiti P510K dapat terhubung ke printer eksternal dan membuatnya sebagai prnter yang sungguh sangat membantu dan meudahkan. Hiti P510K memberikan Anda solusi "All-in-One" dengan hasil akhir cetak foto sempurna yang Anda bisa dapatkan di market saat ini.

Gallery Image Produk Hiti P510K Mini Photo Kiosk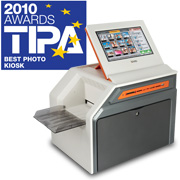 Produk Menarik Lainnya: