Rp 26.999,999
Spesifikasi Produk Hiti P720L Photo Printer
Model Name
Printing Method
Dye Diffusion Thermal Transfer (D2T2 Technology)
Resolution
Printing Size & Capacity*
4" x 6" (102 x 152 mm) : 1000 prints

5" x 7" (127 x 177 mm) : 600 prints

6" x 8" (152 x 203 mm) : 455 prints

6" x 9" (152 x 229 mm) : 455 prints

4" x 6" -2UP

5" x 7" -2UP

6" x 9" -2UP
Printing Speed**
4" x 6" prints: approx. 7.9 seconds

5" x 7" prints: approx. 12 seconds

6" x 8" prints: approx. 15 seconds

6" x 9" prints: approx. 15 seconds
PC-Link Operation
Recommended Software
Picvite Kiosk (Express), Picvite Minilab (Express)

(For Windows PC only)
Supported OS
Windows 2000, XP, Vista, Windows 7 (32/64-bit), Windows 8 ( 32/64-bit)

Mac OS 10.6, 10.7, 10.8
PC Connection
Power Requirement
AC 100V~240V, 50 / 60Hz, 6A
Operation Environment
10° C~ 35° C / 50° F~ 95° F
Power Consumption
Total power consumption: approx. 500W

Standby power consumption: approx. 20W
* 2UP function should be operated from printer driver.
** Under the conditions of HiTi laboratory testing.

Berat dan ukuran Hiti P720L Photo Printer
330 x 424 x 425 mm (13 x 16.7 x 16.7 inches)
26.7 kg / 58.9 lbs. (consumables excluded)

Isi Paket Produk Hiti P720L Photo Printer
1x

Hiti P720L Photo Printer

1xsoftware bundle

1xkartu Garansi

Ringkasan produk Hiti P720L Photo Printer
Powerfull Kinerja & luar biasa Efisiensi
Dibangun dari prinsip, Hiti P720L dirancang untuk memaksimalkan kinerja photofinishing Anda dengan meningkatkan uptime, memperpendek waktu pencetakan, dan menyediakan multi-aplikasi. Hiti P720L dianjurkan untuk digunakan dengan Hiti Picvite Suite, yang mudah dibuat photofinishing kinerja yang kuat dan efisiensi yang luar biasa.
Meningkatkan Uptime
Dengan desain kapasitas 1000-cetak, Hiti P720L jauh lebih sering dalam mengubah media, dan memberikan waktu pencetakan lebih. Juga, gulungan berkapasitas tinggi mengurangi gangguan pengguna.
Shortening Percetakan Waktu
Roll-fed desain mekanisme dengan teknologi cetak yang beredar Hiti mendapat 4 "x6" (10x15cm) cetakan dalam waktu 7,9 detik * * Di bawah kondisi pengujian laboratorium Hiti. * Waktu Printing dapat bervariasi tergantung pada kondisi penggunaan.

Gallery Image Produk Hiti P720L Photo Printer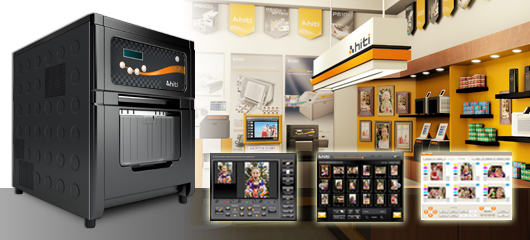 Produk Menarik Lainnya: